Discover the
Territories of Kings
Helping Deer Hunters Encounter Dominant Bucks Daily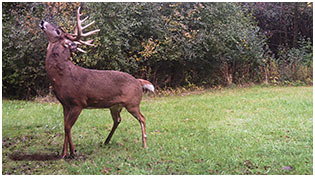 Learn To Make Kings Hunt You!
Deer Behavior Specialists LLC (DBS) are Consultants to Whitetail Deer Hunters across the World. We teach Bob J Mercier's secret tactics a.k.a. The Dominance Is Everything™ Deer Hunting System. Testimonials prove the D.I.E. System Works!
Our expertise is sought by deer hunters everywhere, and now we teach worldwide through this website. We teach deer hunters how to move into and out of the land they hunt by mimicking the behavior of mature whitetail deer, so that no deer go on alert, and all deer that encounter you by sight, sound, or smell, recognize you as displaying the characteristics of king from another herd, and a mature doe as his companion. We (D.I.E. Hunters) want deer to see us move, to hear our footsteps, and to conduct scent-checks on our tracks and scent-trail. We are invisible deer that leave signs that tell deer that we have business with the king of the herd. We are destined to meet the king on every hunt because our actions are those we learned from deer, that make dominant bucks come to the places they are called. You can be a D.I.E. Hunter by using any of our tactics. We will consult you to meet the king.
Learn Dominant Buck Behavioral Traits
Give us a call to schedule your private lesson
DOMINANCE IS EVERYTHING™ Deer Hunting System is a name for Bob Mercier's hunting tactics. When used as directed, the herd king hunts you! He thinks you're a herd king from another herd that moved in and is now threatening his dominance. He also believes the invisible buck you represent is with a doe-in-heat that is nearing estrus.